NARCISSISTIC CULTURE – SOCIAL ANOMALY OR NORM?
Keywords:
narcissism, culture, anomaly, norm, selfie
Abstract
Based on the book of Christopher Lasch, The culture of narcissism (American life in the age of diminishing expectations), by exploring narcissism as a clinical as well as growing civilisational and social phenomenon in the context of metaphor of the human condition, this paper problematises a cultural crisis of the American society in the second half of the 20th century, eroded by corrosive decadence and atrophied intellectual and moral standards along with cultural values diagnosed as narcissistic. Crucial symptoms of the observed pathological changes in the cultural and social climate are also articulated with special reference to the transition from the erosion of standards to the apotheosis of individualism and solipsism. At the same time, the expansion of narcissistic ideology in the 21st century is considered in the form of reflection in today's selfie culture, as well as the fact that narcissistic personality disorder should no longer be considered a psychological deviation, but rather a dominant social norm, which implies a new narcissistic conformism.
References
Aćin, Jovica (2017), "Odlomak o ogledalu", Polja.
https://polja.rs/wp-content/uploads/2017/01/Polja-297-298-6-6.pdf, 12. 2. 2021.
American Psychiatric Association (1980), Diagnostic and Statistical Manual of Mental Disorders (DSM-III), 3rd ed., 315‒317. Washington, DC: American Psychiatric Association.
American Psychiatric Association (2013). Diagnostic and Statistical Manual of Mental Disorders (5th ed.), Washington, DC: American Psychiatric Association.
Brooks, Arthur (2016), "Narcissism Is Increasing. So You're Not So Special", New York Times [13. 2. 2016], https://www.nytimes.com/2016/02/14/opinion/narcissism-isincreasing-so-youre-not-so-special.html, 15. 2. 2021.
George, Frank, Dan Short (2018), "The Cognitive Neuroscience of Narcissism", Journal of Brain Behaviour and Cognitive Sciences Vol. 1 No. 1: 06.
Freud, Sigmund (1914), On Narcissism: An Introduction. The Standard Edition of the Complete Psychological Works of Sigmund Freud, Volume XIV (1914‒1916): On the History of the Psycho-Analytic Movement, Papers on Metapsychology and Other Works, 67‒102.
Gajić, Saša (2008), "Srpski pseudograđanski narcizam". Nova srpska politička misao. [26. 2. 2008]. http://ftp.nspm.rs/kulturna-politika/srpski-pseudogradjanskinarcizam.html?alphabet=l, 10. 2. 2021.
Holmes, James (2003), Narcizam. Zagreb: Jesenski i Turk.
Kohut, Heinz (1966), "Forms and Transformations of Narcissism", Journal of the American Psychoanalytic Association, 243‒272.
Laplanche, Jean, and Jean Bertrand Pontalis (1973), The Language of Psycho-Analysis, Translated by Donald Nicholson-Smith, New York: W. W. Norton, Originally published as Vocabulaire de la Psychanalyse ([Paris]: PressesUniversitaires de France, 1967).
Lasch, Christopher (1979), The Culture of Narcissism. American Life in an Age of Diminishing Expectations, New York: W. W. Norton & Company, Inc.
Ovid (Publius Ovidius Naso) (2010), Metamorphoses, Book 3, in Stanley Lombardo (trans.), Ovid. Metamorphoses, Introduction by W. R. Johnson, 63–88, Indianapolis: Hackett.
Oxford English Dictionary, https://www.oed.com/
Pincus, Aaron, Mark R. Lukowitsky (2010), "Pathological narcissism and narcissistic personality disorder", Annual Review Clinical Psychology.
DOI: 10.1146/annurev.clinpsy.121208.131215
Renger, Almut-Barbara (2017), "Narrating Narcissus, reflecting cognition: Illusion, disillusion, self-cognition and love as passion in Ovid and beyond", https://doi.org/10.1515/fns-2017-0002
Šapiro, Alan (2010), "Kulturno građanstvo u savremenoj Americi", Zlatna greda br. 103/104, maj/jun 2010, http://cameraobscura2013.blogspot.com/2014/10/kulturno-graanstvo-u-savremenoj-americi.html, 2. 2. 2021.
Stein, Joel (2013), "Millennials: The Me Me Me Generation", Time magazine [9. 5. 2013], http://content.time.com/time/subscriber/article/0,33009,2143001,00.html, 12. 2. 2021.
Twenge, Jean (2012), Increases in Individualistic Words and Phrases in American Books 1960–2008. PLoS ONE 7(7): e40181. https://doi.org/10.1371/journal.pone.0040181, 10. 02. 2021.
Vogeler, Joachim Conrad Hermann (1997), "The Myth of Narcissus and the Narcissistic Structure", LSU Historical Dissertations and Theses. 6603. https://digitalcommons.lsu.edu/gradschool_disstheses/6603
Vujović, Tatjana (2008), "Narcizam – psihosocijalni i psihopatološki fenomen", Filozofski fakultet u Nikšiću, Sociološka luča II/2.
Zamorovský, Vojtech (2004), Bogovi i junaci antičkih mitova. Leksikon grčke i rimske mitologije. Zagreb: ArTresor.
Zanor, Charles (2010), "A Fate Tat Narcissists Will Hate: Being Ignored", New York Times [29. 11. 2010], https://www.nytimes.com/2010/11/30/health/views/30mind.html, 12. 2. 2021.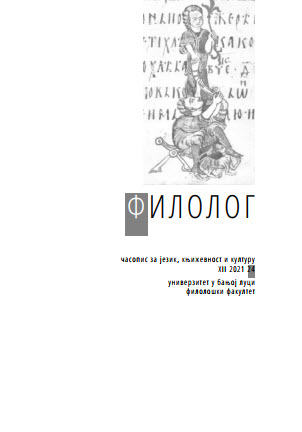 Downloads
How to Cite
Vurdelja , J. D. . (2021). NARCISSISTIC CULTURE – SOCIAL ANOMALY OR NORM?. PHILOLOGIST – Journal of Language, Literature, and Cultural Studies, 12(24), 389–401. https://doi.org/10.21618/fil2124389v
License
Copyright (c) 2021 PHILOLOGIST-JOURNAL OF LANGUAGE, LITERATURE AND CULTURE
This work is licensed under a Creative Commons Attribution-NonCommercial-NoDerivatives 4.0 International License.