ADDRESSING TRUTH VALUES IN WRITTEN CORPORA – A B&H CASE STUDY
Keywords:
corpora, B&H newspapers, trust, confidence, news values
Abstract
This paper approaches the notion of truth( fulness) within the written media discourse, namely the three B&H daily newspapers. Aimed at researching computeraccessible online articles published in the chosen three time frames, the paper focuses on narratives containing the keyphrase "Alan Šeranić" and the representation of the notions of values of trust and confidence found in extracts which contain both the chosen keyphrase and examples of news values. The results show that the attitude towards the researched keyphrase changes both in accordance with the time frames of its use and in accordance with the geographical area of the publication source.
References
Babić, Ž., Muhić, E, & Tica, D. (2021) Coronavirus discourse of uncertainty in the guise of reassurance: We stand together only when we do not stand apart. The Journal of Teaching English for Specific and Academic Purposes. 9 (3), 409–420.
Basch, C. H., Kecojevic, A. & Wagner, V. H. (2020) Coverage of the COVID-19 Pandemic in the Online Versions of Highly Circulated U.S. Daily Newspapers. Journal of Community Health. 45, 1089–1097.
Bell, A. (1991) The Language of News Media. Oxford, Blackwell.
Bednarek, M. (2010) Evaluation in the news: A methodological framework for analysing evaluative language in journalism. Australian Journal of Communication. 37 (2), 15–50.
Bednarek, M. & Caple, H. (2012) 'Value added': Language, image and news values. Discourse, Context & Media. 1, 103–113.
Bednarek, M. (2016) Voices and values in the news: News media talk, news values and attribution. Discourse, Context & Media. 11, 27–37.
Boyatzis, R. E. (1998) Transforming Qualitative Information: Thematic Analysis and Code Development. London, SAGE Publications Ltd.
Braun, V. & Clarke, V. (2006) Using thematic analysis in psychology. Qualitative Research in Psychology. 3, 77–111, https://www.researchgate.net/publication/235356393_Using_thematic_analysis_in_psychology [Accessed 14th July 2019].
Braun, V. & Clarke, V. (2013) Successful Qualitative Research: A Practical Guide for Beginners. London, SAGE Publications Ltd, https://www.google.com/url?sa=t&rct=j&q=&esrc=s&source=web&cd=&ved=2ahUKEwiFuov7tq78AhWJxQIHHXGaDlMQFnoECCwQAQ&url=https%3A%2F%2Fwww.semanticscholar.org%2Fpaper%2FSuccessful-Qualitative-Research%253A-A-Practical-Guide-ClarkeBraun%2Feb144cfba80e0f8592211345adf7deadb8f69aaf&usg=AOvVaw3Q6ydB25Jd9XdzMKnm6yFh [Accessed 17th July 2019].
Caple, H., Huan, C. & Bednarek, M. (2020) Multimodal Analysis Across Cultures. Cambridge, Cambridge University Press.
Chen, H., Huang, X. & Li, Z. (2022) A content analysis of Chinese news coverage on COVID-19 and tourism. Current Issues in Tourism. 25 (2), 198–205. https://www.tandfonline.com/doi/abs/10.1080/13683500.2020.1763269?journalCode=rcit20 [Accessed 28th September 2022].
Fairclough, N. (1995) Media Discourse. London, Edward Arnold.
Guest, G., MacQueen, K. M. & Namey, E. E. (2012) Applied Thematic Analysis. Thousand Oaks, CA, SAGE Publications Ltd.
Harcup, T. & O'Neill, D. (2001) What is news? Galtung and Ruge revisited. Journalism Studies. 2 (2), 261–280
Harcup, T. & O'Neill, D. (2017), What is news? News values revisited (again). Journalism Studies. 18 (12), 1470–1488.
Herrera-Viedma, E., López-Robles, J-R., Guallar, J. & Cobo, M-J. (2020) Global trends in coronavirus research at the time of Covid-19: A general bibliometric approach and content analysis using SciMAT. El profesional de la información. 29 (3), 290–322. https://www.google.com/url?sa=t&rct=j&q=&esrc=s&source=web&cd=&ved=2ahUKEwijrsHNu678AhVQPOwKHSPbBVMQFnoECBMQAQ&url=https%3A%2F%2Frevista.profesionaldelainformacion.com%2Findex.php%2FEPI%2Farticle%2Fdownload%2Fepi.2020.may.22%2F50421%2F263334&usg=AOvVaw0zmH5iNyRxEwEJa0PK_sHq [Accessed 16th July 2021].
Jucker, A. H. (1992) Social Stylistics: Syntactic Variation in British Newspapers. New York, Mouton de Gruyter.
Krippendorff, K. (2004) Content Analysis: An Introduction to Its Methodology 2nd ed. Twelve Oaks, CA, SAGE Publications Ltd.
Mayring, Philipp (2014), Qualitative content analysis. Theoretical foundation, basic procedures and software solution. https://www.psychopen.eu/fileadmin/user_upload/books/mayring/ssoar-2014-mayring-Qualitative_content_analysis_theoretical_foundation.pdf [Accessed 26th May 2021].
Nowell, L. S., Norris, J. M., White, D. E. & Moules, N. J. (2017) Thematic analysis: Striving to meed the trustworthiness criteria. International Journal of Qualitative Methods. 16, 1–13.
Montgomery, M. (2007) The Discourse of Broadcast News: A Linguistic Approach. London, Routledge.
Morgan, T., Carey, M., Gott, M., Williams, L., Egli, V. & Anderson, N. (2021) More than mortality data: a news media analysis of COVID-19 deaths in Aotearoa, New Zealand, Kōtuitui. New Zealand Journal of Social Sciences Online. 16 (2), 419–431. https://research.usq.edu.au/download/50870ad4ddc70b8f528b7bc92025299b380b06d0b4737061aebc6c9a12022f27/2495779/Morgan-2021-More-than-mortalitydata-a-news-med.pdf [Accessed 25th September 2022].
Riffe, D., Lacy, S., Watson, B. R. & Fico, F. (2019) Analysing Media Messages: Using Quantitative Content Analysis in Research 4th ed. New York, Routledge.
Schwartz-Shea, P. & Yanow, D. (2012) Interpretative Research Design: Concepts and Processes. New York, Routledge.
Stempel, G. H. III (2003) Content analysis. In: Stempel, G. H. III, Weaver, D. H. &Wilhoit, G. C. (eds.) Mass Communication Research and Theory. Boston, Allyn & Bacon, pp. 209–219.
Thelwall, M. (2021) Word Association Thematic Analysis: A Social Media Text Exploration Strategy. San Rafael, CA, Morgan and Claypool.
van Dijk, T. A. (1987) News Analysis: Case Studies of International and National News in the Press. New York, Routledge.
Corpora (online newspaper articles downloaded from May 2020 until March 2022):
Glas Srpske https://www.glassrpske.com (GS)
Oslobođenje https://www.oslobodjenje.ba (O)
Večernji list https://www.vecernji.ba (VL)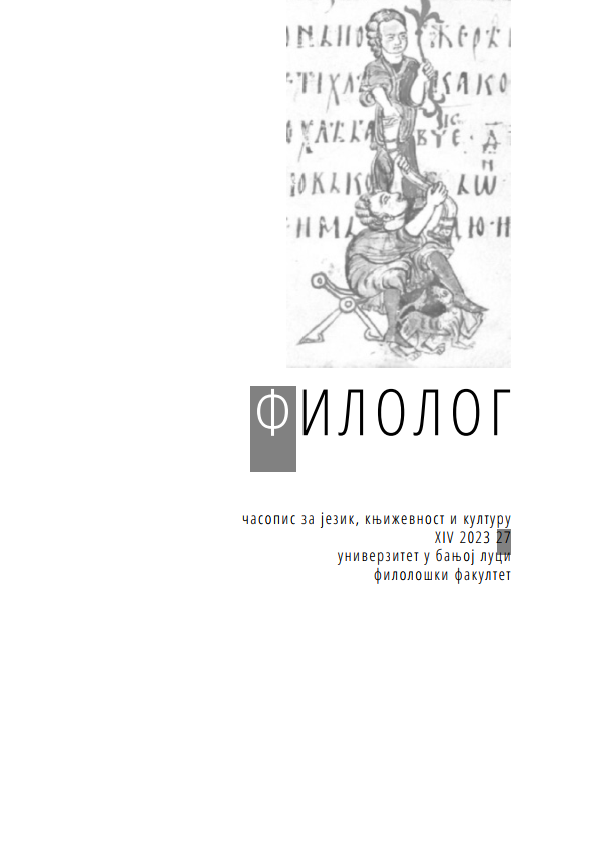 Downloads
How to Cite
Babić, Željka L. (2023). ADDRESSING TRUTH VALUES IN WRITTEN CORPORA – A B&H CASE STUDY. PHILOLOGIST – Journal of Language, Literature, and Cultural Studies, 14(27), 19–45. https://doi.org/10.21618/fil2327019b
Section
ENGLISH DEPARTMENT'S 30TH ANNIVERSARY SPECIAL EDITION
License
This work is licensed under a Creative Commons Attribution-NonCommercial-NoDerivatives 4.0 International License.