ORWELL'S PANOPTIC SOCIETY: METHODS OF GAINING AND MAINTAINING POWER IN NINETEEN EIGHTY-FOUR
Keywords:
Orwell, Nineteen Eighty-Four, Foucault, Panopticon, power, discipline, surveillance, control, hate, group psychology
Abstract
The goal of the paper is to demonstrate Orwell's society as a panoptic one, employing all of the elements of Jeremy Bentham's Panoptical model, as well as presenting it through Foucault's conception of the shift from punishment to discipline as stated in Discipline and Punish: The Birth of the Prison. Panopticon will be presented not as a model of a prison as it was initially intended to be, but as a concept which can be applied to the entire society. The two types of power, the power of sovereignty and disciplinary power shall be applied to the novel with the aim of finding parallels between the two mentioned systems, as well as some possible contraditions and deciding which system is in place in Nineteen Eighty-Four. Constant surveillance, establishing routines and controlling activity will be discussed in terms of mechanisms for gaining and maintaining power. Hate is seen as another mechanism for establishing power and one of the key emotions implemented in group psychology of a totalitarian regime. We shall discuss the role of the collective and the individual in power relations and the way they form "collective individualism" – a society in which one may notice both a unity of the group and an isolated individual.
References
Orvel, Džordž (2016), 1984, Beograd: Kontrast.
References
Arendt, Hannah (1976), The Origins of Totalitarianism, San Diego: Harcourt Brace and Company.
Bentam, Džeremi (2014), Panoptikon ili nadzorna zgrada, Novi Sad: Mediterran publishing.
Claeys, Gregory (2017), Dystopia: A Natural History, London: Oxford University Press.
Frojd, Sigmund (2006), Psihologija mase i analiza ega, Beograd: Fedon.
Fuko, Mišel (1997), Nadzirati i kažnjavati: Rođenje zatvora, Beograd: Prosveta.
Fuko, Mišel (2005), Psihijatrijska moć: Predavanja na Kolež de Fransu 1973-1974, Novi Sad: Svetovi.
Fuko, Mišel (2009), Rađanje klinike, Novi Sad: Mediterran Publishing.
Le Bon, Gustave (2002), The Crowd: A Study of the Popular Mind, New York: Dover Publications, Inc.
Suvin, Darko (1979), Metamorphosis of Science Fiction: On the Poetics and History of a Literary Genre, New Haven: Yale University Press.
Yeo, Michael (2010), "Propaganda and surveillance in George Orwell's Nineteen Eighty-Four: Two sides of the same coin", Global Media Journal – Canadian edition, 49–66.
Zwerdling, Alex (2004), "Isolation of the Individual", Bloom's Guides: George Orwell's 1984, New York: Chelsea House Publishers, 67–75.
Zimbardo, Philip (2005), "Mind Control in Orwell's Nineteen Eighty-Four: Fictional Concepts Become Operational Realities in Jim Jones's Jungle Experiment", On Nineteen Eighty-Four: Orwell and our Future, Princeton: Princeton University Press, 128–141.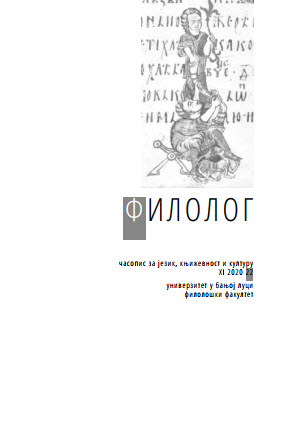 Downloads
How to Cite
Z. Stojanović, A. (2020). ORWELL'S PANOPTIC SOCIETY: METHODS OF GAINING AND MAINTAINING POWER IN NINETEEN EIGHTY-FOUR. PHILOLOGIST – Journal of Language, Literature, and Cultural Studies, 11(22), 299–319. https://doi.org/10.21618/fil2022299s
License
This work is licensed under a Creative Commons Attribution-NonCommercial-NoDerivatives 4.0 International License.