IN LINE WITH THE CANON AND AGAINST THE GRAIN: LERMONTOV AND VRUBEL
Keywords:
demon, angel, Lermontov, Vrubel, art of painting, canonical, Christianity
Abstract
This paper deals with the works of Mikhail Aleksandrovich Vrubel inspired by the oeuvre of Mikhail Yuryevich Lermontov and his view of the themes of Angel and Demon, eternal ones both in the Russian and world literature. The author records the reception of their respective works in their environment, as well as the extent to which they ft the then religious and artistic canons.
References
Ljermontov, Mihail Jurjevič, Demon, http://digital.bms.rs/ebiblioteka/pageFlip/reader/index.php?type=publications&id=4037&m=2#page/62/mode/2up
Lermontov, Mikhail Iūrʹevich (2015), Poėmy, Azbuka-Attikus, Sankt-Peterburg.
References
Ajdačić, Dejan, Demoni u slovenskim književnostima. Književnoistorijska tipologija na primeru istočnoslovenskih i južnoslovenskih književnosti, http://www.rastko.rs/rastko/delo/10048
Durylin, Sergeĭ Nikolaevich (1948), Vrubelʹ i Lermontov, statʹiâ, Literaturnoe nasledstvo, Moskva, AN SSSR.
Gajić, Nenad (2018), Slovenska mitologija, Beograd: Laguna.
Gershenzon, Mikhail Osipovich, Lermontov v russkoĭ kritike, А publicdomainbook, loc. 254.
Gubchenko, Irina, Khudozhnik novoĭ Ėpokhi. O Mikhaile Aleksandroviche Vrubele, statʹiâ, http://www.bez-granic.ru/index.php/2013-08-04-13-26-15/lichnostivistorii/621-vrubel.html
Iânovskiĭ, Boris Karlovich (1910), Vospominaniiâ o Vrubele, Kiev: Iskusstvo i pechatnoe delo.
Iâremich, Stepan Petrovich (1911), Mikhail Aleksandrovich Vrubelʹ. Zhiznʹ i tvorchestvo, izd. I. Knebelâ, 1911.
Lermontov Mikhail Iūuryevich (2003), M. Iū. Lermontov v illiūstrat͡sii͡akh Mikhaila Vrubeliâ, Stikhi, Poėma "Demon", "Geroĭ nashego vremeni", Moskva: Fortuna limited (book colection).
Prete, Marija Karla (2003), Istorija umetnosti, Novi Sad: Prometej.
Rečnik književnih termina (1986), Beograd: Nolit.
Surio, Etjen (1958), Odnos među umetnostima, Sarajevo: Svjetlost.
Suzdalev, Petr Kirillovich (1984), Vrubelʹ. Lichnostʹ. Mirovozrenie. Metod, Moskva: Izobrazitelʹnoe iskusstvo.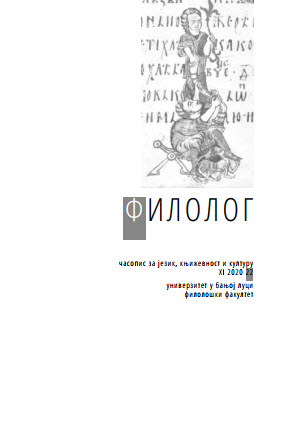 Downloads
How to Cite
Mićić, G.-M. (2020). IN LINE WITH THE CANON AND AGAINST THE GRAIN: LERMONTOV AND VRUBEL. PHILOLOGIST – Journal of Language, Literature, and Cultural Studies, 11(22), 348–358. https://doi.org/10.21618/fil2022348m
License
This work is licensed under a Creative Commons Attribution-NonCommercial-NoDerivatives 4.0 International License.