THE LEXICAL MEANS FOR THE DESCRIPTION OF THE 1999 NATO BOMBING OF YUGOSLAVIA IN THE GERMAN AND SERBIAN PRESS
Keywords:
Discourse analysis, Lexicon analysis, SPIEGEL, NIN, 1999, NATO bombing of FRY
Abstract
This paper analyses lexical means for the NATO bombing of Yugoslavia in the German and Serbian press in 1999. The theoretical part describes the model of the three-dimensional meaning of Fritz Hermanns, according to which the functions of the linguistic sign can be realised on three levels: cognitive, emotional and deontic. The lexical means for the NATO bombing are first analysed in the empirical part, which were found in 68 thematically relevant articles in the Serbian weekly magazine NIN and in 39 articles in the German magazine SPIGEL during the NATO aggression on FRY from March to June 1999. The results have been also shown quantitatively. An important part of the work is the socio-political context of the selected event, which contributes to the semantic analysis of the found lexical means that have certain semantic meaning within the given discourse. As a starting point of the paper we used Humboldt's thesis, that linguistic diversity actually makes a difference in the world view, so the paper tries to answer the question of how language and selected lexicon form the opinion of an individual or a social group about an event, and how the conflict between political and military forces is presented in two different languages and so reflected in the languages further influences the speakers of these languages.
References
Bendel Larcher, Sylvia (2015), Linguistische Diskursanalyse, Tübingen: Narr Francke Attempto Verlag GmbH + Co. KG.
Bjeganjski, Zdislav, Joana Ščutkovska (2017), "Poljsko javno mnjenje o bombardovanju Jugoslavije 1999. godine", Istorija 20. veka, 2/12017. https://www.researchgate.net/publication/322347693_Poljsko_javno_mnjenje_o_bombardovanju_Jugoslavije_1999_godine, 21. 4. 2020.
Burger, Harald (2005), Mediensprache, Berlin: Walter de Gryter GmbH & Co. KG.
Busse, Dietrich (2000), "Historische Diskurssemantik. Ein linguistischer Beitrag zur Analyse gesellschaflichen Wissens", Sprache und Literatur in Wissenschaf und Unterricht, Hef 86: 39–53.
Busse, Dietrich, Wolfgang Teubert (1994), "Ist Diskurs ein sprachwissenschafliches Objekt? Zur Methodenfrage der historischen Semantik", u: Busse/Hermanns/Teubert (Hg.) (1994), Begriffsgeschichte und Diskursgeschichte. Methodenfagen und Forschungsergebnisse der historischen Semantik, Opladen: Westdeutscher Verlag: 10–28.
Calic, Marie-Janin (2010), Geschichte Jugoslawiens im 20. Jahrhundert, München: Verlag C. H. Beck
Di Gracija, Bjađo (2017), Zašto je NATO bombardovao Srbiju 1999?, Beograd: Albatros plus.
Glišović, Ljiljana (2001), Srbija u ogledalu nemačke štampe 1987–2006, Beograd: Službeni glasnik.
Gritsch, Kurt (2010), Inszenierung eines gerechten Krieges? – Intellektuelle, Medien und der "Kosovo-Krieg" 1999, Hildesheim / Zürich / New York: Georg Olms Verlag.
Hermanns, Fritz (1995), "Kognition, Emotion, Intention. Dimensionen lexikalischer Semantik", Die Ordnung der Wörter. Kognitive und lexikalische Strukturen. Harras, G. [Hg.], Berlin / New York, 138–178.
Jertz, Walter (2004), Krieg der Worte – Macht der Bilder: Manipulation oder Wahrheit im Kosovo-Konflikt?, Mönch: Bernard & Graefe.
Krempl, Stefan (2004), Medien, Internet, Krieg: Das Beispiel Kosovo, Ein Beitrag zur kritischen Medienanalyse, München: Verlag Reinhard Fischer.
Lakić, Igor (2011), "Discourse Analysis: Montenegrin Print Media and Nato Airstrikes an Yugoslavia", Media dialogues / Medijski dijalozi, Vol. 2, No. 1, 101–113. http://media-dialogues.com/Archive/MD%20Vol.%202,%20No.%201/101-113%20Igor%20Lakic.pdf, 21. 4. 2020.
Mihaljinac, Nina (2019), Umetnost i politike sećanja: trauma 1999, Beograd: Clio.
Rečnik srpskog jezika (2011), Novi Sad: Matica srpska.
Schippan, Tea (2002), Lexikologie der deutschen Gegenwartssprache, Tübingen: Niemeyer.
Spitzmüller, Jürgen, Ingo H. Warnke (2011), Diskurslinguistik: Eine Einführung in Teorien der transtextuellen Sprachanalyse, Berlin/Boston: Walter de Gryter GmbH & Co. KG.
Von Humboldt, Wilhelm (1968), Über die Verschiedenheit des menschlichen Sprachbaues und ihren Einfluss auf die geistige Entwicklung des Menschengeschlechts, Bonn: F. Dümmler.
Vujčić, Nikola (2013), "Das Konzept Jugoslawien in den SPIEGEL-Berichten von dem Kriegsbeginn – eine diskurslinguistische Untersuchung der SPIEGEL-Artikel aus dem Jahr 1989", Sprache und Literatur dies- und jenseits der Mauer(n) / Jezik i književnost s obe strane zida, D. Nedeljković / N. Vujčić, Zbornik u čast Božinke Petronijević povodom 65. rođendana, FILUM: Kragujevac, str. 145–160.
Wengeler, Martin (2007), Topos und Diskurs. Begründung einer argumentationsanalytischen Methode und ihre Anwendung auf den Migrationsdiskurs (1960–1985), Tübingen: Niemeyer.
Živković, Nikola (2003), Kako nas drugi vide? Slika Srba u nemačkim medijima 1990–2000, Novi Sad: Prometej.
Internet izvori
Osnovni zakon (Ustav) Savezne Republike Nemačke, http://www.gesetze-im-internet.de/gg/index.html, 20. 11. 2019.
Zvanična stranica lingvističke akcije Unwort des Jahres za 1999. godinu, http://www.unwortdesjahres.net/index.php?id=114, 21. 11. 2019.
Onlajn rečnik nemačkog jezika DUDEN, https://www.duden.de/, 30. 11. 2019.
Zvanična stranica EMNID-a, https://www.kantaremnid.de/, 23. 11. 2019.
Zvanični sajt magazina NIN, http://nin.co.rs/, 21. 11. 2019.
Onlajn rečnik nemačkog jezika DWDS, https://www.dwds.de/, 30. 11. 2019.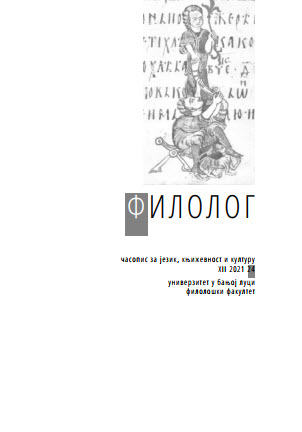 Downloads
How to Cite
Vujošević , A. T. . (2021). THE LEXICAL MEANS FOR THE DESCRIPTION OF THE 1999 NATO BOMBING OF YUGOSLAVIA IN THE GERMAN AND SERBIAN PRESS. PHILOLOGIST – Journal of Language, Literature, and Cultural Studies, 12(24), 165–185. https://doi.org/10.21618/fil2124165v
License
Copyright (c) 2021 PHILOLOGIST-JOURNAL OF LANGUAGE, LITERATURE AND CULTURE
This work is licensed under a Creative Commons Attribution-NonCommercial-NoDerivatives 4.0 International License.