DISCURSIVE CONSTRUCTION OF IDENTITY IN NIGERIAN NEWSPAPER REPORTS ON PIPELINE VANDALISM
Keywords:
Discursive identity construction, pipeline vandalism, newspaper reports, media discourse, Niger Delta, conflict
Abstract
Scholarly works on pipeline vandalism have paid extensive attention to empirical questions of causes and consequences. But there remains a dearth of studies on the representation of the acts of vandalism in newspapers, which is necessary for evaluating what message about the problem is being disseminated to the citizens and how that could contribute to resolving the problem or sustaining it. This paper examines the identity construction for critical social actors in Nigerian newspaper reports on pipeline vandalism. Sixteen –news samples were purposively selected from three newspapers: The Tide, New Waves, and The Guardian published between 2015 and 2019. Theoretically, the study is anchored on a combination of Fina's (2011) identity process and van Dijk's (1995, 2006a, 2006b) in-group/out-group description. The analysis involved accounting for the deployment of group self-schemata (van Dijk, 1995, 2005) and ideological strategies (van Dijk, 2006) in realising the three identity processes of indexing, positioning, and local occasioning established by Fina (2011). The study finds that through a combination of media identity ascription and social actors' positive-self description in the news reports, each of the major stakeholders in the conflict assumes an identity of innocence and responsible entity while shifting the blame to others. It concludes therefore that this could be responsible for the difficulty in ending the conflict.
References
Alley, I., Asekomeh, A., Mobolaji, H. & Adeniran, Y. A. (2014) Oil price shocks and Nigerian economic growth. European Scientific Journal. 10 (19), 375–391.
Aroh, K. N., Ubong, I. U., Eze, C. L., Harry, I. M., Umo-Otong, J. C. & Gobo, A. E. (2010) Oil spill incidents and pipeline vandalization in Nigeria. Disaster Prevention and Management: An International Journal. 19 (1), 70–87.
Cotter, C. (2015) Discourse and media. In: Tannen, D, Hamilton, H. E. & Schiffrin, D. (eds.) The Handbook of Discourse Analysis. West Sussex: Bloomsbury, 795–821.
Douglas, O. and Okonta, I. (2018) The Niger Delta: a people and their environment. https://www.versobooks.com/blogs/3678-the-niger-delta-a-people-and-theirenvironment [Accessed 13 February 2021].
Fairclough, N. (1995) Media discourse. London: Arnold.
Fina, A. D. (2011) Discourse and identity. In: van Dijk, T. (ed.) Discourse Studies: A Multidisciplinary Introduction. Sage, pp. 263–282.
Inokoba, P. K. & Imbua, D. L. (2010) Vexation and militancy in the Niger Delta: the way forward, J Hum Ecol. 29 (2), 101–120.
Jakaza, E. (2020) Identity construction or obfuscation on social media: a case of Facebook and WhatsApp. African Identities. 1–23.
John, D. A. F. & Dumanig, F. P. (2013) Identity construction and code switching in English newspaper advertisements. Search. 5 (1), 57–71.
Liu, Y. & Jia, W. (2020) Critical analysis and identity construction of Chinese news Media from transitivity perspective. International Education Studies. 13 (1), 84–88.
Mau, M., Taharab, T. & Farida, M. (2019) Rape and identity construction in Indonesia digital news media. European Journal of Research in Social Sciences. 7 (2), 14–27.
Melefa, O. M., Chukwumezie, T. E. & Adighibe M. E. (2017) Discursive construction of identity in interactions among undergraduate students of University of Nigeria, Nsukka. European Journal of Scientific Research. 148 (1), 179–192.
Newsom, C. (2011) Conflict in the Niger Delta: more than a local affair, United States Institute of Peace. https://www.usip.org/sites/default/files/resources/Conflict_NigerDelta.pdf [Accessed 17 May 2021].
Ordinioha, B. & Brisibe, S. (2013) The human health implications of crude oil spills in the Niger Delta, Nigeria: an interpretation of published studies. Nigerian Medical Journal. 54 (1), 10–16.
Paul, I. A. (2014) Petroleum and Nigeria's economy: a paradox of global reality since 1956. Research on Humanities and Social Sciences. 4 (16), 94–101.
Singh, N. & Singh, G. (2017) Role and impact of media on society: a sociological approach with respect to demonetization. Impact. 5 (10). 127–136.
Sooben, D. & Rawjee, V. P. (2013) Ethnic media and identity construction: the representation of women in an ethnic newspaper in South Africa. Academic Journal of Interdisciplinary Studies. 2 (8), 697–702.
van Dijk, T. (1993) Principles of critical discourse analysis. Discourse & Society. 4 (2), 249–283.
van Dijk, T. (1995) Ideological discourse analysis, New Courant. 4, 135–161.
van Dijk, T. (2005) Discourse analysis as ideological analysis. In: Schäffner, C. and Wenden, A. L. (eds.) Language and Peace. Aldershot, Taylor & Francis, pp. 17–33.
van Dijk, T. (2006a) Ideology and discourse analysis, Journal of Political Ideologies. 11 (2), 115–140.
van Dijk, T. (2006b) Politics, ideology, and discourse. Encyclopedia of Language and Linguistics, 728–740.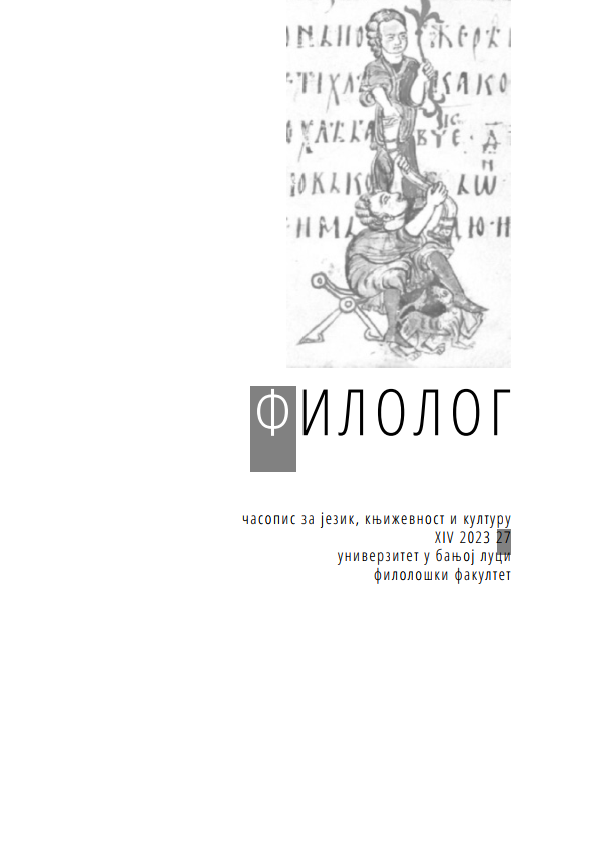 Downloads
How to Cite
Chukwu, M. O. (2023). DISCURSIVE CONSTRUCTION OF IDENTITY IN NIGERIAN NEWSPAPER REPORTS ON PIPELINE VANDALISM . PHILOLOGIST – Journal of Language, Literature, and Cultural Studies, 14(27), 63–82. https://doi.org/10.21618/fil2327063c
Section
ENGLISH DEPARTMENT'S 30TH ANNIVERSARY SPECIAL EDITION
License
This work is licensed under a Creative Commons Attribution-NonCommercial-NoDerivatives 4.0 International License.