RHETORIC AND POLITICS – THE POWER OF WORDS IN SHAKESPEARE'S JULIUS CAESAR
Keywords:
Shakespeare, Julius Caesar, rhetoric, politics, power, manipulation
Abstract
Shakespeare's play Julius Caesar emphasises the connection between rhetoric and politics. Some scholars, like Gayle Greene and Kim Ballard, point out that rhetoric in Julius Caesar is extremely important for the central political problems and character analysis. They also argue that Shakespeare implicitly criticises and condemns rhetoric that hides moral and political truth. Language is the most influential tool for seizing power in the play. Shakespeare well understands that power comes from those politicians who know how to manipulate the passions of the common people. Shakespeare's soldiers are at the same time skilful politicians who, by manipulating particular words and gestures, try to attain their own ambitious goals. Funeral speeches offer Brutus and Antony a chance to convince people of the value of their own ideology through the power of spoken words. Describing Caesar's murder as the result of the conspirators' efforts to maintain order in Rome, Brutus uses prose and parallelisms to create a sense of balance. Using blank verse, apostrophe, repetition and irony, Antony affects the feelings of the Roman people and causes them to revolt. Shakespeare emphasises that mastering rhetoric results in strong political power and control.
References
Shakespeare, W. (1992) Julius Caesar. In: The Illustrated Stratford Shakespeare. London, Chancellor Press, pp. 752–776.
References
Ballard, K. (2016) Rhetoric, Power and Persuasion in Julius Caesar. https://www.bl.uk/shakespeare/articles/rhetoric-power-and-persuasion-in-julius-caesar [Accessed
th August 2022].
Behnam, A. (2009) Verbal Power Duel: Verbal Combat Strategies in Shakespeare's Julius Caesar: Brutus Versus Antony. Kemanusiaan: The Asian Journal of Humanities. 16, 35–57.
Davis, B. & Francis, K. (2021) Discourses on Learning in Education: Making Sense of a Landscape of Difference. Frontiers in Education. 6:760867. DOI: 10.3389/feduc.2021.760867
Domenico, M. (2021) Shakespeare's Julius Caesar Wounds, Reasons, Persuasion. Tesi di Laurea in Letteratura Ingles. Universita Del Salento. https://www.academia.edu/59464092/Shakespeares_Julius_Caesar_Wounds_Reasons_Persuasion [Accessed 27th August 2022].
Greene, G. (1980) The Power of Speech/To Stir Men's Blood: The Language of Tragedy in Shakespeare's Julius Caesar. Renaissance Drama. 11, 67–93.
Leithart, J.P. (2004) Introduction to Julius Caesar. https://theopolisinstitute.com/leithart_post/essay-introduction-to-julius-caesar/ [Accessed 12th August 2022].
Mackay, H. (2010) Shakespeare and Renaissance Drama. Edinburgh Gate, Pearson Education Limited.
Miola, S. R. (2002) Shakespeare's Ancient Rome: Difference and Identity. In: Hattaway M. (ed.) The Cambridge Companion to Shakesperare's History Plays. Cambridge, Cambridge University Press, pp. 193–214.
Parenti, M. (2003) The Assassination of Julius Caesar: A People's History Of Ancient Rome. New York, The New Press.
Peltonen, M. (2017) Popularity and the art of rhetoric: Julius Caesar in context. In: Fitter C. (ed.) Shakespeare and the Politics of Commoners Digesting New Social History. Oxford University Press, pp. 163–179.
Phoon, A. (2004) A Vision Fair and Fortunate: Ideology, Politics and Selfhood in Julius Caesar. Sydney Studies in English. 30, 21–40.
Rivers, I. (1994) Classical and Christian Ideas in English Renaissance Poetry. 2nd edn. London, Routledge.
Rapp, C. (2022) Aristotle's Rhetoric. In: Zalta N. E. (ed.) The Stanford Encyclopedia of Philosophy. https://plato.stanford.edu/archives/spr2022/entries/aristotle-rhetoric [Accessed 10th December 2022].
Wills, G. (2011) Rome and Rhetoric: Shakespere's Julius Caesar. Yale University Press.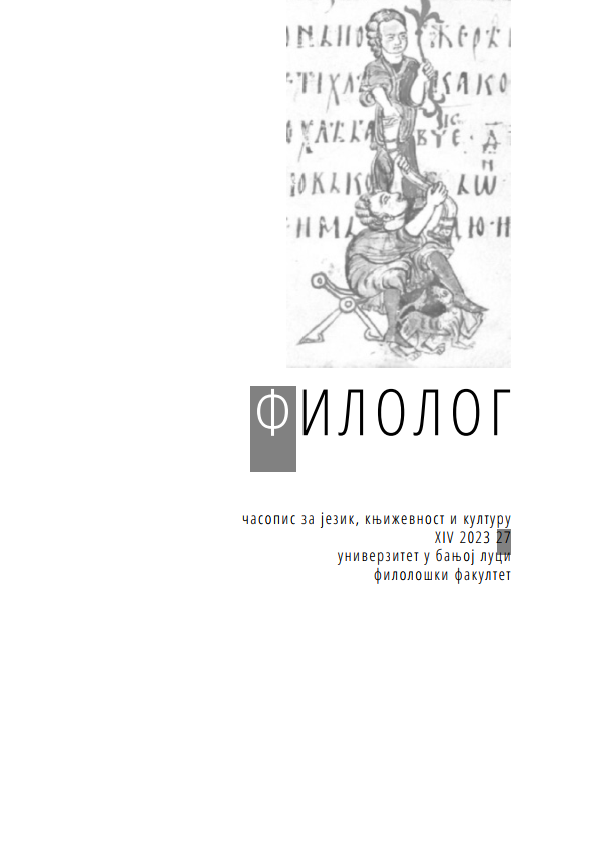 Downloads
How to Cite
Dumitrašković, T. A. (2023). RHETORIC AND POLITICS – THE POWER OF WORDS IN SHAKESPEARE'S JULIUS CAESAR . PHILOLOGIST – Journal of Language, Literature, and Cultural Studies, 14(27), 102–116. https://doi.org/10.21618/fil2327102d
Section
ENGLISH DEPARTMENT'S 30TH ANNIVERSARY SPECIAL EDITION
License
This work is licensed under a Creative Commons Attribution-NonCommercial-NoDerivatives 4.0 International License.