PRODUCTIVITY AND FREQUENCY OF SOME LATINATE VERB PREFIXES IN ENGLISH AND SERBIAN
Keywords:
verb prefix, frequency, productivity, morphology, corpus linguistics
Abstract
The Latin language was the Lingua Franca of the ancient world, and the precursor of Romance languages. As such, it had a huge influence on European languages, and we can find elements of Latin both in English and in Serbian. In this paper, four Latinate verb prefixes with spatial and temporal meanings have been examined, and those are: trans-, re-, intra-, and post-, and their frequencies and productivities in both languages have been calculated. The analysis was made on the English corpus BNCweb, and the Serbian corpus srWaC, based on the hypothesis that these prefixes would be more frequent and productive in English, which was more exposed to Latin and Romance languages.
References
Bauer, L., Lieber, R. & Plag, I. (2013) The Oxford Reference Guide to English Morphology. Oxford, Oxford University Press.
Chitashvili, R. J. & Baayen, H. (1993) Word Frequency Distributions. In Hrebicek, L. & Altmann, G. (eds.) Quantitative Text Analysis. Trier, WVT, 54–135.
Dixon, R. M. W. (2014) Making New Words: Morphological Derivation in English. Oxford, Oxford University Press.
Đuliman, S. (2019) Semantička transpozicija humora u prevodu TV serije "Blackadder" na bosanski jezik. DHS Časopis Filozofskog fakulteta u Tuzli. 3, 115–130.
Клајн, И. (2002) Творба речи у савременом српском језику. Део 1, Слагање и префиксација. Београд, Завод за уџбенике и наставна средства, Институт за српски језик САНУ – Нови Сад, Матица српска. / Klajn I. (2022) Tvorba reči u savremenom srpskom jeziku. Deo I, Slaganje i prefiksacija. Beograd, Zavod za udžbenike i nastavna sredstva, Institut za srpski jezik SANU – Novi Sad, Matica srpska.
Corpora
British National Corpus http://bncweb.lancs.ac.uk/ [Accessed in February 2023]. http://www.natcorp.ox.ac.uk/
Ljubešić, N. & Klubička, F. (2016) Serbian web corpus srWaC 1.1. Slovenian language resource repository CLARIN.SI. http://hdl.handle.net/11356/1063 [Accessed in February 2023].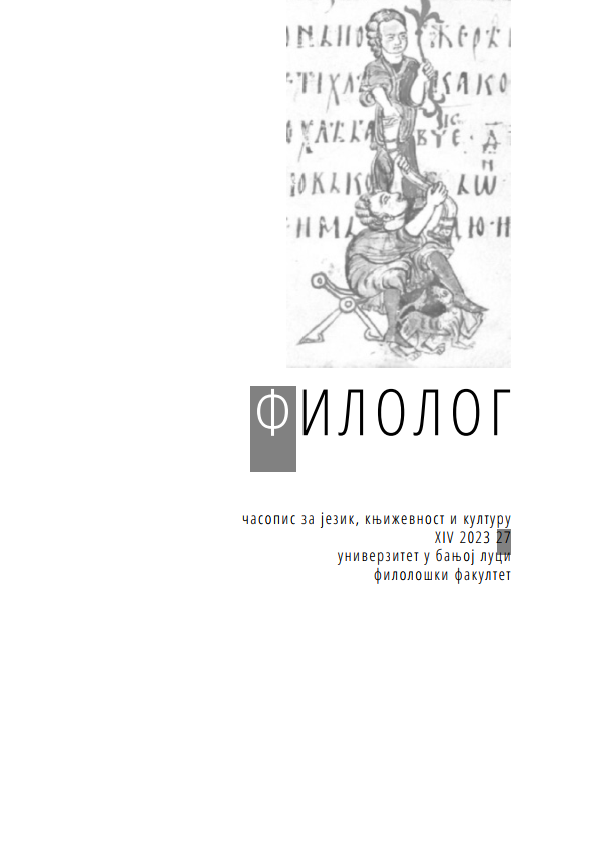 Downloads
How to Cite
Jurišić Roljić, J. M. . (2023). PRODUCTIVITY AND FREQUENCY OF SOME LATINATE VERB PREFIXES IN ENGLISH AND SERBIAN . PHILOLOGIST – Journal of Language, Literature, and Cultural Studies, 14(27), 127–137. https://doi.org/10.21618/fil2327127j
Section
ENGLISH DEPARTMENT'S 30TH ANNIVERSARY SPECIAL EDITION
License
This work is licensed under a Creative Commons Attribution-NonCommercial-NoDerivatives 4.0 International License.