THE POSITION AND ROLE OF LISTENING SKILLS IN ENGLISH FOR SPECIFIC PURPOSES: BUSINESS STUDENTS' ATTITUDES
Keywords:
listening skills, listening comprehension, English for specific purposes, curriculum
Abstract
This paper deals with the role of listening skills in the process of learning English as a foreign language, developing language competences and improving the level of English knowledge for the needs of successful young people in a modern business environment. The broader thematic framework of this research is the development of integrated language skills in teaching English for specific purposes to business students of higher vocational schools in Serbia. In order to determine the role of listening skills in teaching, the following is examined: listening comprehension of professional, complex and long texts; the presence of the teacher as a source of auditory text; student motivation; the role of implicit extracurricular listening skills; the importance of using audio-visual content and exposure to authentic language material in the acquisition of the English language. The theoretical postulates were verified by the research results based on the questionnaire answered by the respondents – business students at the Belgrade Business and Arts Academy for Applied Studies. The results were quantitatively processed using the statistical method, and interpreted and analysed in relation to the theoretical concept presented in the work. Insights gained were used to draw conclusions and to further design and improve the research and teaching contents.
References
Baikov, V., Baikov, D., Krylova, E. (2013) Vikipediia i YouTube dlia vsekh. Moskva, DMK Press.
Blagojević, S. (2014) Kompetentnost u razumevanju predavanja iz struke na engleskom jeziku i kako je uvežbavati. Tematski zbornik radova sa konferencije Nauka i savremeni univerzitet: Jezik, književnost i kultura. Filozofski fakultet, Niš, 272–281.
Buck, G. (2001) Assessing Listening. Cambridge, Cambridge University Press.
Demir, M. D., Tavil, Z. M. (2021) The effect of technolog y-based materials on vocational high school students' listening skill. Journal of Language and Linguistic Studies. 17 (1 special Issue), 448–457.
Flowerdew, J., Miller, L. (2005) Second Language Listening: Theory and Practice. Cambridge, Cambridge University Press.
Harmer, J. (2007) The Practice of English Language Teaching. Harlow, Pearson Education Limited.
Hedge, T. (2000) Teaching and Learning in the Language Classroom. 1st ed. Oxford, Oxford University Press.
Hutchinson, T., Waters, A. (1987) English for Specific Purposes: A Learning-Centred Approach. Cambridge, Cambridge University Press.
Josifović Elezović, S. (2011) Preduslovi usavršavanja i vrednovanja veštine slušanja u nastavi stranog jezika. Kultura polisa. VIII (16), 175–190.
Kulić, D., Savković, K. (2019) Upotreba Jutjuba u nastavi engleskog jezika na srednjoškolskom nivou. Baština. 49, 129–143.
Kulić, D., Blagojević, S. (2017) A New Concept in FLT: Developing Multiliteracies through Language Skills Integration. Rethinking Tradition in English Language and Literary Studies. 1, 65–80.
Matsuo, S. (2015) Extensive Listening inside and outside the classroom. Humanities Review. Nishinomiya, Kwansei Gakuin University, 20, 109–115.
Metruk, R. (2018) Extensive Listening Practice of EFL Learners with Authentic English Videos. Teaching English with Technology. 18 (4), 3–19.
Nunan, D. (1991) Language Teaching Methodology: A Textbook for Teachers. Ed. C. N. Candlin, Prentice Hall.
O'Malley, J. M., Chamot, A. U. (1990) Learning Strategies in Second Language Acquisition. Cambridge, Cambridge University Press.
Rost, M. (2002) Teaching and Researching Listening (2nd ed.). Edinburgh, Pearson.
Scrivener, J. (2011) Learning Teaching. The Essential Guide to English Language Teaching. Oxford, Macmillan.
Ur, P. (1996) A Course in Language Teaching: Practice and Theory. Cambridge, Cambridge University Press.
Vandergrift, L. (1999) Facilitating second language listening comprehension: acquiring successful strategies. ELT Journal. 53 (3), 168–176.
Vandergrift, L. (2004) Listening to learn or learning to listen. Annual Review of Applied Linguistics. 24, 3–25.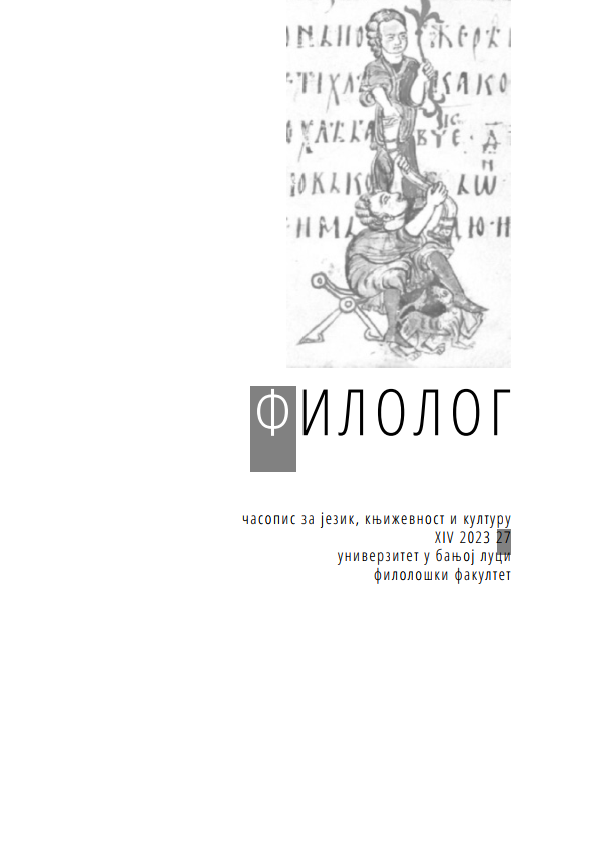 Downloads
How to Cite
Kulić, D. G. ., & Kažanegra Veličković, A. Ž. . (2023). THE POSITION AND ROLE OF LISTENING SKILLS IN ENGLISH FOR SPECIFIC PURPOSES: BUSINESS STUDENTS' ATTITUDES. PHILOLOGIST – Journal of Language, Literature, and Cultural Studies, 14(27), 299–316. https://doi.org/10.21618/fil2327299k
License
This work is licensed under a Creative Commons Attribution-NonCommercial-NoDerivatives 4.0 International License.