SOME ASPECTS OF IMPROVING ENGLISH LANGUAGE TEXTBOOKS FOR GEOLOGISTS AT THE UNIVERSITY LEVEL: CLIL VS. ESP
Keywords:
CLIL, ESP, textbook, authenticity, visual values, scaffolding, language activities
Abstract
Bearing in mind the enormous importance teaching materials have in the language classroom, the paper deals with the analysis of modern approaches to creating foreign language textbooks at the university level. Considering the influence of the English language as a world language in which almost all the latest research and achievements in the field of technical sciences and geology are published, this textbook example is thus based on English as the common language of the largest number of speakers. We believe, however, that it can be further translated into other languages, thus providing students with the opportunity to study the same material in two or more languages, with more success and less cognitive load. Also, it is of great importance that language textbooks go through such academic and practical adjustments that will replace the essential shortcomings of traditional teaching with useful and applicable educational models. Following such goals, the paper tries to: 1) present the importance of developing teaching materials through the principles of visual values, authenticity and scaffolding; 2) clarify and shed light on the essential shortcomings of traditional teaching materials by comparing ESP and CLIL methods, and 3) present practical suggestions for practicing and acquiring the language through three activities adapted to the stated principles.
References
Alexander, R. (2008) Towards Dialogic Teaching: Rethinking Classroom Talk. Dialogos UK, 4th Revised edition.
Alexander, R. (2018) Developing dialogue: genesis, process, trial. Research Papers in Education. 33 (5), 361–398. https://www.robinalexander.org.uk/wp-content/uploads/2018/07/RPIE-2018-Alexander-dialogic-teaching.pdf [Accessed 20th April 2022].
Bernard, R. & Zemach, D. (2003) Materials for Specific Purposes. In: Tomlinson, B. (ed.) Developing Materials for Language Teaching. Continuum London, pp. 306–323.
Budiman, P. G., Sada, C. & Wardah, W. (2018) Improving students' vocabulary by using comic strips in teaching narrative text. Jurnal Pendidikan Dan Pembelajaran Khatulistiwa. 7 (9), 1–8. https://jurnal.untan.ac.id/index.php/jpdpb/article/view/28279/75676578327 [Accessed 20th April 2022].
Da Silva, A. B., Santos, G. S. D. & De Araújo Bispo, A. C. K. (2017) The comics as teaching strategy in learning of students in an undergraduate management program. RAM. Revista De Administração Mackenzie. 18 (1), 40–65. https://doi.org/10.1590/1678-69712017/administracao.v18n1p40-65 [Accessed 5h May 2022].
Del Pozo, M. & Estébanez, D. R. (2015) Textbooks for Content and Language Integrated Learning: policy, market and appropriate didactics? Foro De Educación. 13 (18), 123–141. DOI: 10.14516/fde.2015.013.018.007.
Dudley-Evans, T., & St John, M. J. (2010) Developments in English for Specific Purposes: a Multi-Disciplinary Approach. Cambridge, Cambridge University Press.
Edmondson, W. (2009) Language Awareness. In: Knapp, K., Seidlhofer, B. & Widdowson, H. G. (eds) Handbook of Foreign Language Communication and Learning. London, Mouton de Gruyter, pp. 163–190.
Hopwood, V. & Gallaway, C. (1999) Evaluating the linguistic experience of a deaf child in a mainstream class: a case study. Deafness & Education International. 1 (3), 172–187. DOI: 10.1002/dei.61.
Knouzi, I., Swain, M., Lapkin, S. & Brooks, L. A. (2010) Self-scaffolding mediated by languaging: microgenetic analysis of high and low performers. International Journal of Applied Linguistics. 20 (1), 23–49. DOI: 10.1111/j.1473-4192.2009.00227.x.
Kohonen, V. (2009) Autonomy, Authenticity and Agency in Language Education: The European Language Portfolio as a Pedagogical Resource. In: Kantelinen, R. & Pollari, P. (eds.) Language Education and Lifelong Learning. Joensuu, University of Eastern Finland, pp. 9–44.
Krashen, S. D. (1991) The Input Hypothesis: An Update. In: Alatis, J. E. (ed.) Georgetown University Round Table on Languages and Linguistics 1991. Washington, D. C., Georgetown University Press, pp. 409–431.
Laufer, B., Meara, P., & Nation, P. (2005) Ten best ideas for teaching vocabulary. The Language Teacher. 29 (7), 11–14. http://jalt-publications.org/tlt/issues/2005-07_29.7 [Accessed 20th April 2022].
Nation, I. S. P. (2001) Learning Vocabulary in Another Language. Cambridge, Cambridge University Press.
Oxford, R. (2011) Teaching and researching language learning strategies. London, Longman.
Poai, S. T. (2018) Teaching English vocabulary using comic strips. Sintuwu Maroso Journal of English Teaching (JET). 4 (1), 51–58. https://ojs.unsimar.ac.id/index.php/sintuwumarosoJET/article/download/153/138 [Accessed 20th April 2022].
Reeve, J., Jang, H., Carrell, D., Jeon, S. & Barch J. (2004) Enhancing Students' Engagement by Increasing Teachers' Autonomy Support. Motivation and Emotion. 28 (2), 147–169. DOI: 10.1023/b:moem.0000032312.95499.6f.
Rengur, Z. & Sugirin, S. (2019) The Effectiveness of using Comic Strips to Increase Students' Reading Comprehension for the Eighth Grade Students of SMPN 1 Pundong. In: Proceedings of the 6th International Conference on Educational Research and Innovation (ICERI 2018), August 30–31, 2018, Yogyakarta, Indonesia, Atlantis Press, pp. 239–243. DOI: 10.2991/iceri-18.2019.49.
Sarma, L.S. (2016) Teaching English through comics. Indian Journal of Applied Research. 6 (6), 283–284. https://www.worldwidejournals.com/indian-journal-ofapplied-research-(IJAR)/fileview/June_2016_1464768478__90.pdf [Accessed 5th May 2022].
Schmitt, N. (1997) Vocabulary learning strategies. In: Schmitt, N. & McCarthy, M. (eds) Vocabulary: Description, Acquisition and Pedagogy. Cambridge, Cambridge University Press, pp. 199–227.
Tomlinson, B. (1999) Developing criteria for materials evaluation. IATEFL Issues. 147, 10–13.
Tomlinson, B. (2003) Materials Evaluation. In: Tomlinson, B (ed.) Developing Materials for Language Teaching. London, Continuum, pp. 15–36.
Unkelbach, C. (2006) The Learned Interpretation of Cognitive Fluency. Psychological Science. 17 (4), 339–345. DOI: 10.1111/j.1467-9280.2006.01708.x.
Van Lier, L. (1996) Interaction in the Language Curriculum: Awareness, Autonomy and Authenticity. London, Longman.
Walqui, A. (2006) Scaffolding Instruction for English Language Learners: A Conceptual Framework. International Journal of Bilingual Education and Bilingualism. 9 (2), 159–180. DOI: 10.1080/13670050608668639.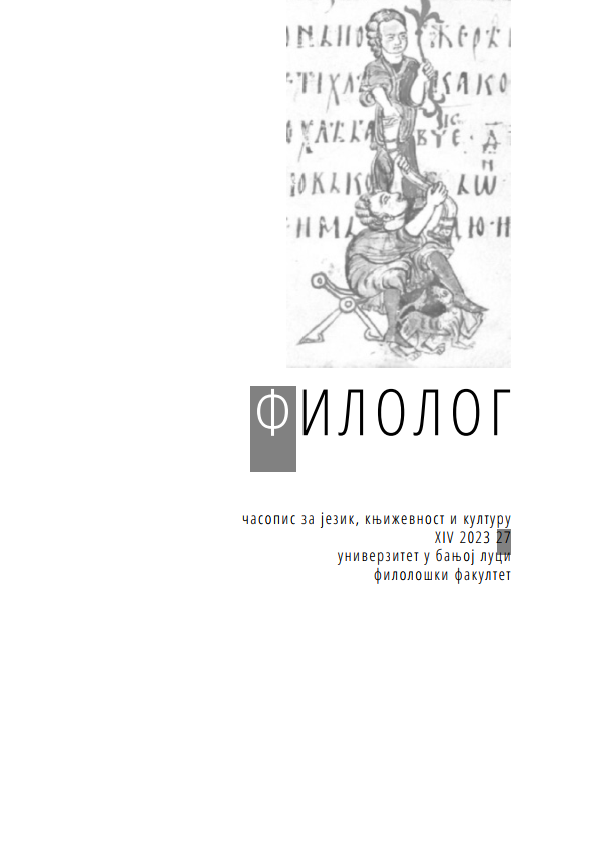 Downloads
How to Cite
Beko, L. V. ., & Mićović, D. N. . (2023). SOME ASPECTS OF IMPROVING ENGLISH LANGUAGE TEXTBOOKS FOR GEOLOGISTS AT THE UNIVERSITY LEVEL: CLIL VS. ESP. PHILOLOGIST – Journal of Language, Literature, and Cultural Studies, 14(27), 317–332. https://doi.org/10.21618/fil2327317b
License
This work is licensed under a Creative Commons Attribution-NonCommercial-NoDerivatives 4.0 International License.