LANGUAGE AND GENDER – MALE AND FEMALE LANGUAGE PATTERNS IN THE GREEK SERIES MHN APXIZEIΣ THN MOYPMOYPA
Keywords:
language, gender, stereotypes, media, modern Greek language
Abstract
Television is a dominant medium that can influence one's attitude and social ideologies formation since it reflects sociolinguistic reality and maintains language ideologies and existing social stereotypes. For that reason, we can mention so-called female and male language patterns and their main characteristics, which are to a great extent associated with social power, i.e. the role that an individual has in his social community or community of practice. This paper aims to examine whether the Greek media and more specifically, the Greek TV series promote so-called male and female language patterns, as well as social stereotypes directed towards women. In this paper, we analysed the linguistic behaviour of the protagonists of the Greek series Mην αρχίζεις την μουρμούρα. Qualitative non-experimental research based on the analysis of linguistic behaviour at the level of the characters' lexical choice, Vaso and Charis showed that their choice of language patterns is proportional to their social or professional status. In addition, we noticed the presence of certain social stereotypes, while it is evident that the use of stereotypical-female language patterns is associated with a hierarchically lower social position.
References
Androulakis, G., Xydopoulos, G. (2008) Glossiki Anaptyxi. Eisagogika themata Glossologias. Patras, Hellenic Open University.
Barmparousis, C., Sousanna Maria Nikolaou, S. M. (2014) Gender representations of students fifth and sixth grade elementary school and television series (soap operas). In: Evaluation of Quality Assurance in HEIusing SPSS, Athens, Piraeus University of Applied Sciences, pp. 44–58.
Bergwall, V. (1999) Toward a Comprehensive Theory of Language and Gender. Language in Society. 28 (2), 273–293.
Butler, J. (1988) Performative Acts and Gender Constitution: An Essay in Phenomenology and Feminist Theory. Theatre Journal. 40 (4), 519–531.
Cameron, D. (2003) Gender Issues in Language Change. Annual Review of Applied Linguistics. 23, 187–201.
Canakis, C. (2008) Glossa, Arsenikotita kai Sexoualikotita sto Diadyktio. Meletes gia tin elliniki glossa. 28, 159–170.
Coates, J. (1999) Women behaving badly: Female speakers backstage. Journal of Sociolinguistics. 3 (1), 65–80.
Costoula-Makraki, N. (2001) Glossa kai koinonia. Vasikes ennoies. Athens, Metaihmio.
Daalmans, S., Kleemans, M., Sadza, A. (2017) Gender representation on gendertargeted television channels: A comparison of female-and male-targeted TV channels in the Netherlands. Sex roles. 77 (5), 366–378.
Eckert, P., McConnell-Ginet, S. (1992) Think Practically, Look Locally: Language and Gender as Community-Based Practice. Annual Review of Anthropology. 21, 461–490.
Eckert, P., McConnell-Ginet, S. (1999) New generalizations and explanations in language and gender research. Language in society. 28 (2), 185–201.
Eckert, P., McConnell-Ginet, S. (2003) Language and Gender. Cambridge, CUP.
Filipović, J. (2009) Rodno osetljive jezičke politike: teorijske postavke i metodološki postupci. Anali Filološkog fakuteta. 21, 109–117.
Filipović, J. (2018) Moć reči: ogledi iz kritičke sociolingvistike. Beograd, Zadužbina Andrejević.
Fterniati, A., Tsami, V., Archakis, A. (2016) Tileoptikes diafimiseis kai glossiki poikilotita: Protaseis kritikis glossikis didaskalias. In: Proscholiki & Scholiki Ekpaideysi 4 (1), pp. 85–100.
Gerbner, G., Gross, L., Jackson-Beeck, M., Jeffries-Fox, S., Signorielli, N. (1978) Cultural Indicators: Violence Profile No. 9. Journal of Communication. 28 (3), 176–207.
Haas, A. (1979) Male and female spoken language differences: Stereotypes and evidence. Psychological Bulletin. 86(3), 615–626.
Holmes, J. (1992) An Introduction to Sociolinguistics. London: Longman.
Holmes, J. (1997) Women, language and identity. Journal of sociolinguistics. 1 (2), 195–223.
Kafiri, K. (2002) Phylo kai MME.: Meleti episkopisis. Athens: K.E.th.I.
Kartalou, A. (2000) Gender: Professional and class identities in Miss Director and Modern Cinderella. Journal of Modern Greek Studies. 18, 105–118.
Lakoff, R. (1973) Language and Woman's Place. Language and Society. 2(1), 45–80.
Lampropoulou, S (2014) Koinoniko Phylo: Methodoi kai Prosengiseis. In: Analysi Logou-Theoria kai efarmoges, pp. 399–438.
Mills, S. (2005) Gender and impoliteness. Journal of Politeness Research. 1, 263–280.
Patsioura, C (2021) I kataskeyi emphylon taytotiton mesa apo tileoptikes seires. Η κατασκευή έμφυλων ταυτοτήτων μέσα από τηλεοπτικές σειρές. Master's Thesis. Patras, University of Patras.
Pavlidou, Th-S. (2006) Glossa-Genos-Phylo: Provlimata, Anazitiseis kai Elliniki Glossa. In: Glossa-Genos-Phylo, pp. 10–31.
Rađenović, A. (2012) Jezik i rod: Kako mladići govore o devojkama?. Anali Filološkog fakulteta. 24, 315–331.
Soule, K. (2011) The What, When, Who, and Why of Nagging in Interpersonal Relationships. In: Galvin K. (ed.) Making Connections. New York, Oxford University Press, pp. 193–199.
Stamou, A., Maleskou, C. (2007) The representation of woman in Greek television: The case of television series. The Social Sciences Tribune. 13, 181–198.
Stamou, Α., Maroniti, Κ., Dinas, Κ. (2012) Representing ʻtraditional' and ʻprogressive' women in Greek television: The role of ʻfeminine'/ʻmasculine' speech styles in the mediation of gender identity construction. Women's Studies International Forum. 35 (1), 38–52.
Stamou, A., Dimopoulou, A. (2015) Koinonioglossologikes anaparastaseis tis kataskeyis tou phyloz ston tileoptiko logo: I periptosi tis seiras Ergazomeni Gynaika. Glossologia. 23, 23–44.
Stamou, A., Tsotou, V. (2019) Glossika stereotypa se keimena mazikis koultouras gia paidia: Mia diachroniki analysi ton glossikon kodikon se tainies kinoumenon shedion tis Disney. Epistimoniki Epetirida Paidagogikou Tmimatos Nipiagogon Panepistimiou Ioanninon. 12 (1), 95–133.
Tannen, D. (1990) Sex, Lies and Conversation. The Washington Post. https://www.washingtonpost.com/archive/opinions/1990/06/24/sex-lies-andconversation/01cb17ba-1af7-4bf4-8a02-3d1b6c11648f/.
Tsiplakou, S. (2015) Didaskontas dialekto se ena paidagogiko programma kritikou grammatismou; i ekpaideytiki metarrythmisi tis Kiprou. In: I didaskalia ton neoellinikon glossikon poikilion kai dialekton stin prothovathmia kai deyterovathmia ekpaideysi: Theoritikes prosengiseis kai didaktikes efarmoges, pp. 187–210.
Tsokalidou, R. (2001) Glossa kai phylo. In: Encyclopaidikos Odigos gia ti glossa. 1–3.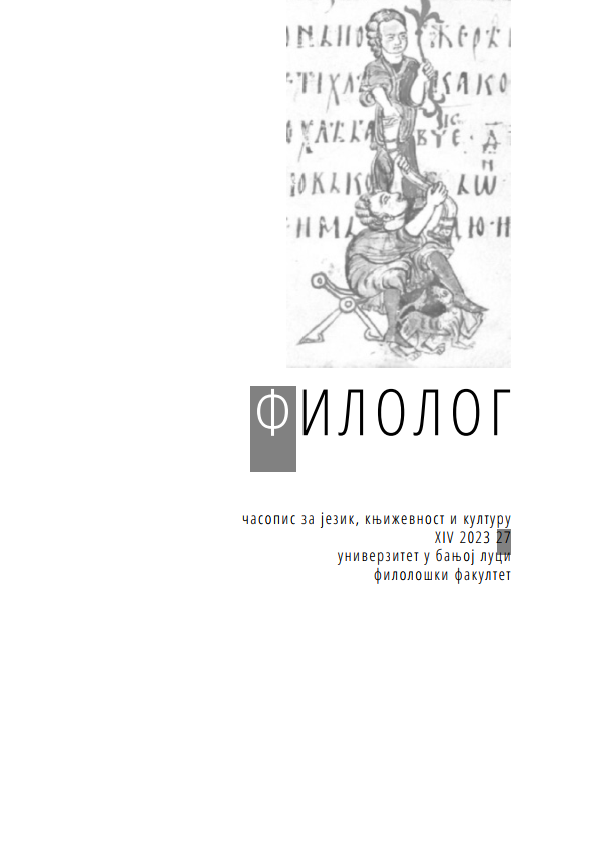 Downloads
How to Cite
Baćić Ćosić , M. G. . (2023). LANGUAGE AND GENDER – MALE AND FEMALE LANGUAGE PATTERNS IN THE GREEK SERIES MHN APXIZEIΣ THN MOYPMOYPA. PHILOLOGIST – Journal of Language, Literature, and Cultural Studies, 14(27), 345–364. https://doi.org/10.21618/fil2327345b
License
This work is licensed under a Creative Commons Attribution-NonCommercial-NoDerivatives 4.0 International License.