SERBIAN ENGLISH THROUGH THE LENS OF THE ELF RESEARCH PARADIGM
Keywords:
English as a Lingua Franca (ELF), phonetics, phonology, pragmatics, Serbian variety of English (Serbian English)
Abstract
Linguists around the world have been researching international English for a long time, forming three paradigms of thought and research – English as an International Language (EIL), World English (WE) and English as a Lingua Franca (ELF). The aim of this paper is to present a review of the research conducted so far regarding English in Serbia and, thus, to offer insight into the inner workings of Serbian English, all in the light of ELF research. Bearing in mind that research within the ELF paradigm framework is not carried out often in Serbia, all the studies presented in this paper view the Serbian English variety as learners' language. The elimination of contrastive studies was taken as the basic criterion for literature selection, which made it possible to compare the Serbian linguists' studies with the ELF paradigm framework. Studies within the scope of phonetics/phonology and pragmatics were found. As regards to phonetics and phonology, papers of only two authors fit in with the established criterion. The findings of their studies confirm that Serbian English speakers have acquired the phonetic features necessary for international communication, i.e. the ELF phonetic core. Nonetheless, it was not possible to compare Serbian English pragmatic studies with ELF research – ELF studies involve spoken corpora, while Serbian English studies encompass questionnaires and interviews. Therefore, there is much to be discovered about the Serbian variety of English. Conducting further research into Serbian English within the ELF paradigm would allow comparison with ELF standards and unveil those linguistic elements which students in Serbia need to acquire in order to participate in international communication more efficiently.
References
Cogo, A. & Dewey, M. (2006) Efficiency in ELF communication: From pragmatic motives to lexico-grammatical innovation. Nordic journal of English studies. 5 (2), 59–93.
Council of Europe (2001) Common European framework of reference for languages: Learning, teaching, assessment. Cambridge, Press Syndicate of the University of Cambridge.
Džunić, J., Ćirić, B. & Jovanović, S. (2012) The use of mitigating devices in requests by Serbian EFL learners. Philologia. 10, 39–47.
Halupka-Rešetar, S. (2014) Request modification in the pragmatic production of intermediate ESP learners. ESP Today. 2 (1), 29–47.
Holliday, A. (2018) Native-Speakerism. In: Liontas, J. I. (ed.) The TESOL Encyclopedia of English Language Teaching. John Wiley & Sons, Inc., pp. 1–7.
House, J. (2010) The Pragmatics of English as a lingua franca. In: Trosborg, A. (ed.) Pragmatics across languages and cultures. Berlin, Germany, Mouton de Gruyter, pp. 363–387.
Јаневска, М. Н. (2022) Продукција поствокалског /r/ код српских студената англистике. Philologia Mediana. 14 (1), 429–448. / Janevska, M. N. (2022) Produkcija postvokalskog /r/ kod srpskih studenata anglistike. Philologia Mediana. 14 (1), 429– 448.
Jenkins, J. (2002) A Sociolinguistically Based, Empirically Researched Pronunciation Syllabus for English as an International Language. Applied Linguistics. 23 (1), 83–103.
Jenkins, J. (2005) Implementing an International Approach to English Pronunciation: The Role of Teacher Attitudes and Identity. TESOL Quarterly. 39 (3), 535–543.
Jenkins, J. (2006) Current Perspectives on Teaching World Englishes and English as a Lingua Franca. TESOL Quarterly. 40 (1), 157–181.
Mauranen, A. (2003) The Corpus of English as Lingua Franca in Academic Settings. TESOL Quarterly. 37 (3), 513–527.
Modiano, M. (2009) EIL, Native-speakerism and the Failure of European ELT. In: Sharifian, F. (ed.) English as an International Language: Perspectives and Pedagogical Issues. Bristol, UK, Multilingual Matters, pp. 58–77.
Paunović, T. (2011) Sounds Serbian? Acoustic properties of Serbian EFL students' speech. Selected papers on theoretical and applied linguistics. 19, 357–369.
Paunović, T. (2015) Pitch height and pitch range in Serbian EFL students' reading and speaking tasks. Наслеђе. 32, 73–94.
Paunović, T. (2020) EFL students' spontaneous speech: Tonality, tonicity, and tone. Belgrade English Language and Literature Studies. 12, 51–76.
Savić, M. (2013) Ready for professional challenges? Senior-year English department students' sociopragmatic and pragmalinguistic knowledge. ТЕМЕ: Часопис за друштвене науке. 37 (2), 683–700.
Seidlhofer, B. (2003) A concept of international English and related issues: from 'real English' to 'realistic English'?. Strasbourg, Language Policy Division, Council of Europe.
Tošić, T. P. (2021) Shaping students' identity through EFL in Belgrade high schools. Анали Филолошког факултета. 33 (2), 113–133.
Tošić, T. (2022) Ideal izvornog govornika u svetlu varijetalne diversifikacije engleskog jezika u međunarodnoj upotrebi: istraživačke paradigme. Philologia. 20, 21–34.
Widdowson, H. (2015) ELF and the pragmatics of language variation. Journal of English as a lingua franca. 4 (2), 359–372.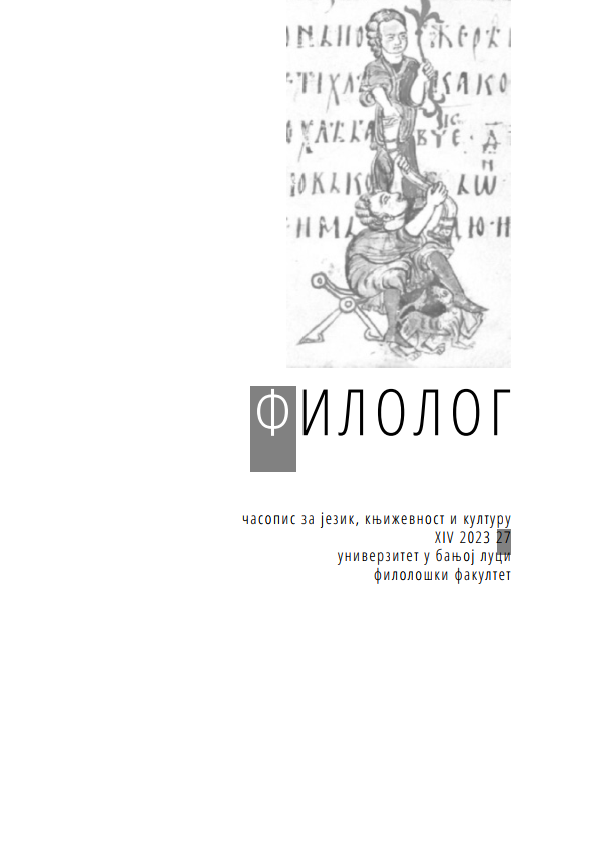 Downloads
How to Cite
Tošić, T. P. . (2023). SERBIAN ENGLISH THROUGH THE LENS OF THE ELF RESEARCH PARADIGM . PHILOLOGIST – Journal of Language, Literature, and Cultural Studies, 14(27), 384–400. https://doi.org/10.21618/fil2327384t
License
This work is licensed under a Creative Commons Attribution-NonCommercial-NoDerivatives 4.0 International License.