ILLUSTRATIVE EXAMPLE OF EKPHRASIS IN ROMAN HISTORIOGRAPHY. DESCRIPTION OF THE GREAT FIRE OF ROME (TACITUS, ANN. XV, 38)
Keywords:
ekphrasis, fire in Rome, Tacitus, Annals, ʻTacitus style'
Abstract
Ekphrasis, a stylistic figure characteristic of epic poetry, has also found its application in Roman historiography. Namely, the Roman historian Tacitus and his work Annals are known for its highly stylised poetic language. Tacitus' language – color poeticus, is full of rhetorical and stylistic figures with which this historian portrays events from the past. The author's narrative in visual images – faithful descriptions of people, events, battles, objects and phenomena – leaves a strong impression on readers. This pictorial expression in ancient times was called ekphrasis. Our goal is to explain the basic concept and role of ekphrasis, and then determine its application in a selected example from Tacitus' Annals. There are many examples of ekphrasis, and for the purposes of this work we have chosen the description of The Great Fire of Rome, which occurred during the reign of Emperor Nero. Based on the analysed example, we will see how Tacitus used ekphrasis in his ʻTacitus style' to portray this terrible event.
References
Crepajac, Lj. (1970) Kornelije Tacit, ʻAnali'. Beograd, Srpska književna zadruga, Kolo LXIII, knjiga 422.
Nipperday, K. (1852) Corneluis Tacitus, zweiter band Ab excessu divi Augusti XI–XVI, mit den varianten der florentiner handschrift und de rede des Claudius. Leipzig, Weidmannsche Buchhandlung.
Quintilian, Institutio oratoria, Book 6, Book 9. Harold Edgeworth Butler Ed.; Perseus digital library, http//: www.perseus.tufts.edu.
References
Belchior, K. Y. (2015) Para de deleite a visão e os olhos (Tácito, Diálogo dos oradores 22): Ékphrasis ou descrição na historiografia Taciteana. Let. Cláss., São Paulo, 22, pp. 69–81.
Fowler, D. P. (1991) Narrate et Describe: The Problem of Ekphrasis. The Journal of Roman Studies. 81, 25–35.
Jelić, V. (1997) Προγυμνάσματα retora Aftonija, pripremne vežbe za besednike. Novi Sad, Matica srpska, SANU, Beograd.
Lessing, E. G. (1990) Laocoon, transl. Courtin, Paris.
Ljubišić, S. (2019) Tacitovi Anali u srpskim i hrvatskim prevodima 20. vijeka. Banja Luka: Filozofski fakultet.
Ljubišić, S. (2022) Sine ira et studio: Istoriografska metoda u Tacitovim Analima. Бањалучки новембарски сусрети 2021. 22, 53–73.
Owen, M. & Gildenhard, I. (2013). Tacitus, Annals, 15.20‒23, 33‒45, Latin text, Study aids with Vocabulary, and Commentary. Open Book publishers 2013, http://www.openbookpublishers.com.
Parat, J. (2018) Έκφράζομεν δέ πράγματα: Ekfraza – opisi umjetničkih predmeta u grčkoj epici. Latina et Graeca, 33, 5–60.
Prtija, S. (2008) Jedan primjer ekfraze u formi pisma (Plinije Mlađi, V 6). Zbornik Matice srpske za književnost i jezik. Knj. 56, sveska 1, Novi Sad, 19–23.
Rečnik književnih termina. (1991) Glavni i odgovorni urednik Dragiša Živković, fototipsko izdanje. Institut za književnost i umetnost u Beogradu, Romanov Banja Luka.
Scholz, B. (1998) Sub oculos subiectio Quintilian on Ekphrasis and Enargeia. In: Valerie Robillard V. & Jongeneel E. (eds.) Pictures into words, Theoretical and Descriptive Approaches to Ekphrasis.. Amsterdam, VU University, pp. 73–99.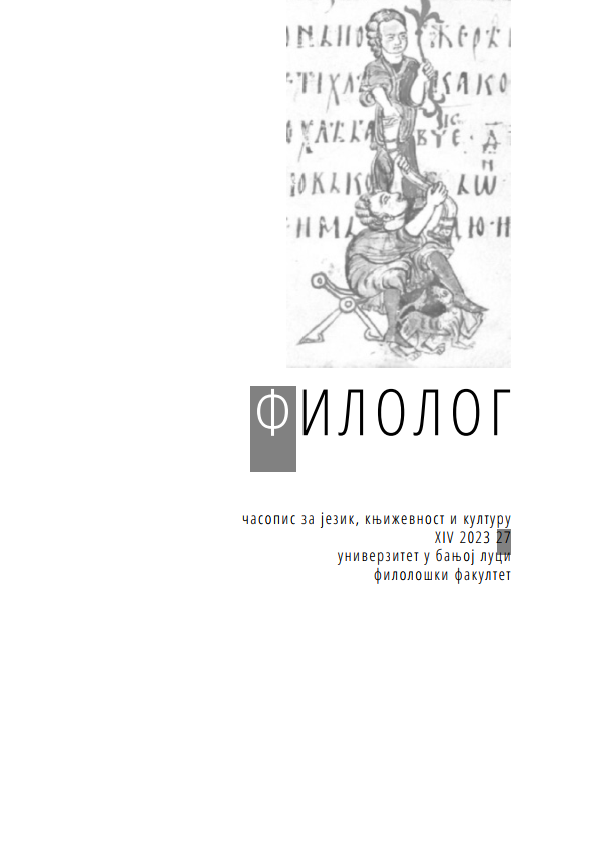 Downloads
How to Cite
Ljubišić, S. M. . (2023). ILLUSTRATIVE EXAMPLE OF EKPHRASIS IN ROMAN HISTORIOGRAPHY. DESCRIPTION OF THE GREAT FIRE OF ROME (TACITUS, ANN. XV, 38). PHILOLOGIST – Journal of Language, Literature, and Cultural Studies, 14(27), 419–430. https://doi.org/10.21618/fil2327419l
License
This work is licensed under a Creative Commons Attribution-NonCommercial-NoDerivatives 4.0 International License.