CULTURAL PREPONDERANCE OR SEMANTIC DUE DILIGENCE: TWO SIDES OF THE SAME COIN WITH A CONCEPTUAL TWIST
Keywords:
culture, conceptualisation, social values, dichotomies, ubiquity, cognition
Abstract
Just as every culture is autonomous in the creation of its social values, it is likewise self-governing in the creation of customs and beliefs that define it. Some of those self-defining creeds are strongly entrenched in the use of language and communication. When an American executive places his/her feet on the desk, the message of authority and relaxation that is being sent is readily understood, while the same gesture in an Arabic country would have a totally different implication, one of disdain and insult. Such implications can be culture specific or culture ubiquitous. To better illustrate the dichotomy, it would be useful to recall Grice's views on the efficiency of communication as being dependent on adherence to four maxims. In his portentous article 'Logic and Conversation' (1975), he shows that prudence and intellect empower human kind in an obliging way to successfully generate and construe messages that are sent via conversational implicatures. This paper aims to explore the fine line that balances these two facets within the realm culture and translation.
References
Obama, B. (2012) Address Before a Joint Session of the Congress on the State of the Union. The American Presidency Project. University of California, Santa Barbara. https://www.presidency.ucsb.edu/node/299426 [Accessed 31st April 2023].
References
Anderson, M. (2003) Ethnography as Translation. Translation: Approaches to Translation Studies 21. 389–396.
Baker, M. (1992) In Other Words. London, Routledge.
Blakemore, D. (2002) Linguistic Meaning and Relevance: The Semantics and Pragmatics of Discourse Markers. Cambridge, Cambridge University Press.
Grice, H. P. (1975) Logic and Conversation. Syntax and Semantics: Speech Acts. 41–58.
Gutt, E.A. (1991) Translation and Relevance: Cognition and Context. Oxford, Blackwell.
Hutchins, W. & Kenny, O. (trans) (1991) Palace of Desire. Cairo, The American University in Cairo Press.
Seleskovitch, D. & Lederer, M. (1989/1995) A systematic approach to teaching interpretation. Silver Spring, Md., Registry of Interpreters for the Deaf.
Katan, D. (2014) Translating Cultures An Introduction for Translators, Interpreters and Mediators. London, Routledge.
Kesić, D. & Muhić, E. (2015) Concomitant Tutelage Disparities. In: Akbarov, A. (ed.) The Practice of Foreign Language Teaching, Newcastle-upon-Tyne, Cambridge Scholars Publishing, pp. 116–167.
Kesić, D. & Muhić, E. (2019) Connotative facets of meaning in translation within incongruent contexts. Journal of Teaching English for Specific and Academic Purposes. 7 (1), 125–132. DOI: 10.22190/JTESAP1901125K.
Muhić, E. (2018) Metaphors, one author and the written word: suicidal fish swirling in the lochs of Albion and the Balkans. In: Muhić, E. (ed.) Fenomenologija značenja: jezičke, socio-kognitivne i kulturološke dimenzije domaćeg javnog prostora. Banja Luka, Rotari klub, pp. 128–133.
Muhić, E. (2013) Conceptual Scenarios in Contemporary American Political Discourse: (Not) Going It Alone. In: Akbarov, A. & Larsen-Freeman, D. (eds.) Applying Intercultural Linguistic Competence to Foreign Language Teaching and Learning. Sarajevo, IBU Publications, pp. 611–618.
Pike, K. L. (1957) Axioms and Procedures for Reconstructions in Comparative Linguistics: An Experimental Syllabus. Glendale, Calif, Summer Institute of Linguistics.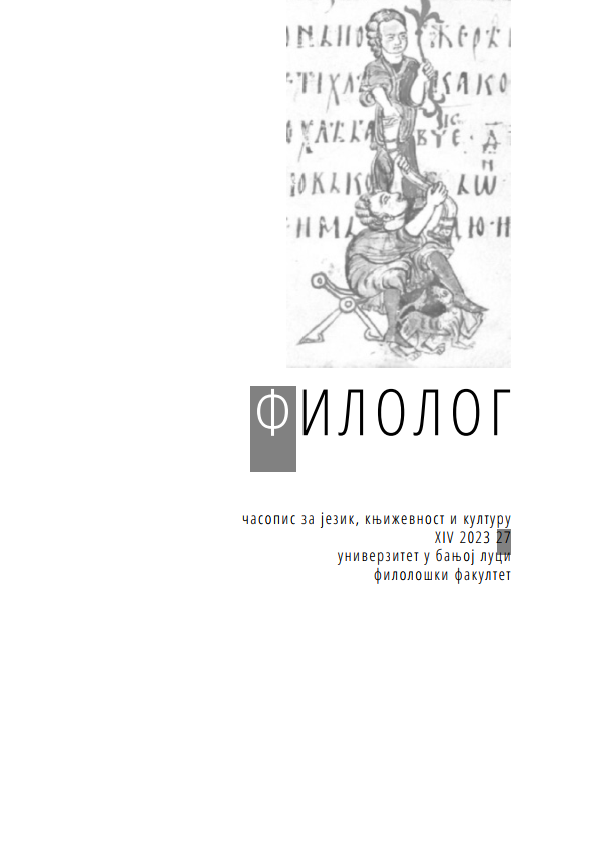 Downloads
How to Cite
Milinović, D. M. ., Muhić, E. Z. ., & Kesić, D. . . (2023). CULTURAL PREPONDERANCE OR SEMANTIC DUE DILIGENCE: TWO SIDES OF THE SAME COIN WITH A CONCEPTUAL TWIST . PHILOLOGIST – Journal of Language, Literature, and Cultural Studies, 14(27), 333–344. https://doi.org/10.21618/fil2327333m
License
This work is licensed under a Creative Commons Attribution-NonCommercial-NoDerivatives 4.0 International License.